A well thought-out LinkedIn lead generation strategy is essential if you're looking for B2B clients. Why? Because that's where you'll find a lot of your clients.
Whether you're looking at a paids ads strategy or conventional cold outreach, LinkedIn is one of the channels you'll want to use. 4 out of 5 LinkedIn members are decision drivers in their business; they're the people you want to reach.
LinkedIn has also been voted as the most trustworthy network in 2020. B2B and B2C traffic coming from it (instead of Facebook or Twitter) had a 277% higher lead conversion rate in a study conducted on 5,000 businesses!
You also have a ton of opportunities to reach your target group. With over 55M listed companies, the well of potential leads will never run dry.
So what are you waiting for? Start implementing your lead generation strategy today with the tips below! It's time to make your sales pipeline more efficient.
Table of Contents
10 Failproof LinkedIn Lead Generation Strategies To Use
All right, so we've already said that having a solid LinkedIn lead generation strategy is essential. However, don't misunderstand its usefulness.
There's no templating your strategies so that they'll apply to anyone and everyone. Actually, that's one of the worst things you can do. B2B lead generation is all about being personal in your approach.
"One size fits all" doesn't exist. Not if you want to be successful anyway.
The more you can make potential leads think and feel that you get their business' needs and have the solution, the better you'll do. Of course, you also do need to have the solution.
With that out of the way, let's delve into actual strategies
1. Look For The Right People
Doing B2B lead generation means looking for those people who can actually take contractual decisions in their company. It doesn't matter if you're selling a product or a service; you won't get far by sending a connection request to people on the lower side of the hierarchy (but it helps with connecting with more relevant people in the future).
Look for the managers, the CEOs, CSOs. They're the people who know best what their business is doing, what it needs, and how badly it needs it.
Likewise, if you know that what you're selling can drastically improve a company, then you can create that need. Structure a great USP (unique selling proposition) before getting in touch with these people.
But, how do you find them?
Well, you can simply use LinkedIn's search function (yes, that's it!). Try going for "sales manager", "social media manager", "chief executive officer", etc (include the quotations, it helps the search parameters).
If you're just looking to build an outreach group for later, experiment with search terms freely. See what shows up for which searches and note that down for later use.
Depending on your profile type (free or paid), you can save the search and create lists. Especially if you have LinkedIn's "Sales Navigator".
Note that sometimes you won't be able to connect with some people. This is because LinkedIn is built around networking.
If the platform thinks you are outside of the person's network, it won't let you connect with them or view their profile (will show up as "LinkedIn Member"). This mostly happens for 3rd+ degree connections though.
However, this also depends on your account type. For example, with the above mentioned Sales Navigator, you'll see all profiles that fit your search criteria, and be able to send connection requests.
Of course, you can be more targeted too. If you already know the companies to which you want to sell, you can find the relevant people on their company page. Go to their business profile and click on "X employees". You'll be shown a list of people which you can connect with (alternatively, click the "People" tab under "employees").
Depending on the urgency of your efforts, you can be less or more "aggressive". For example, instead of an outright connection request, you can "follow" the profile. This sends the person a notification that you're interested in their activity, without them having to accept anything.
Bear in mind that "follow" and "connect" can be hidden in the "more" section of a profile. Other times, one will be visible outright, while the other one is in the "more" section, like the example below.
It's also helpful if the 2 of you have shared connections with whom you've worked in the past, or with whom you're working with right now. Connection requests from total strangers are likelier to be ignored without the right message.
However, that's part of outreach. Sometimes, it just doesn't work! That's the reality of it, so don't get discouraged. Learn from the lack of responses, the negative ones, and the positive ones, and always optimize your message.
2. Make Your Profile Trustworthy
Clothes don't make a man, but they're a huge part of how you're perceived. The same logic can be applied to your LinkedIn profile. It should basically be treated as an extension of yourself.
LinkedIn is a business social media platform, so this is not the place to emphasize your passions or who you are. Focus on skills, jobs, accomplishments, a professional headshot, a convincing tagline.
Profile optimization isn't all visual either. You want to make your profile appealing to potential B2B clients, but also to LinkedIn's SEO. The more appropriate keywords you use on your page, the better. This way, your chances of showing up in searches yourself go up.
Let's look at our co-owners profiles as an example (Robert Indrieș and Alex Berman). Disclaimer: they both own or co-own multiple businesses, so their profiles aren't X27-focused exclusively.
From the get-go, you see 3 important elements:
A convincing and custom-made profile photo & banner.
A straight to the point tagline.
Branding elements and appropriate color contrast.
Both profiles adhere to the same design concepts, but they're taken in different directions.
Robert's profile is more businesslike in the traditional meaning of the word. The colors and images are focused on professionalism, calm and trust. The tagline compliments this with his career achievements and promise of quality.
Alex's profile is also professional but in a more dynamic way. The red color emphasises action, self-drive and determination. The cover image fits with the theme by presenting a clear CTA that's reinforced by the tagline. He presents himself as a speaker and educator.
Both profiles have the same goal: sales.
However, they're reaching out to different audiences. This is the key takeaway here. Build your profile to "speak" to the people who YOU want to reach. Make them find you trustworthy. Additionally, include keywords important to your job and/or business in the tagline.
The "About" section is equally important, and it's where you must also provide LinkedIn's algorithm with some keyword-rich text.
Likewise, from a user's perspective, it's crucial to see an elevator pitch type of approach here. List what you're doing, how you are doing it, and what results you're getting. You can even use bullet points. Everything that can be considered a plus or a USP, put it here! Your "About" must sell, but also convey your personality to a degree.
Remember what we said above? B2B outreach is all about that personal touch!
The "Featured" section under "About" is straightforward. Add your best work or accomplishments here. After users take a quick (and it will be quick) look at your profile, it's amazing for them to see what you've actually done.
The "Experience" section is more or less your formal CV. Add your jobs and responsibilities there. Go into as much detail as you want. However, being precise with your job position and tasks here also helps your profile's SEO, so we advise spending some time on it.
Last but not least, your "skills & endorsement" should be filled out too. The former is important for your SEO, as those skills can also define your search appearance. LinkedIn also provides short "tests" which will give you a badge for certain skills.
For endorsements, just don't be shy! Ask your co-workers, your manager, your clients. The more people who recommend you, the higher the chances you'll find more work in the future. You can also offer to write a recommendation for the other party.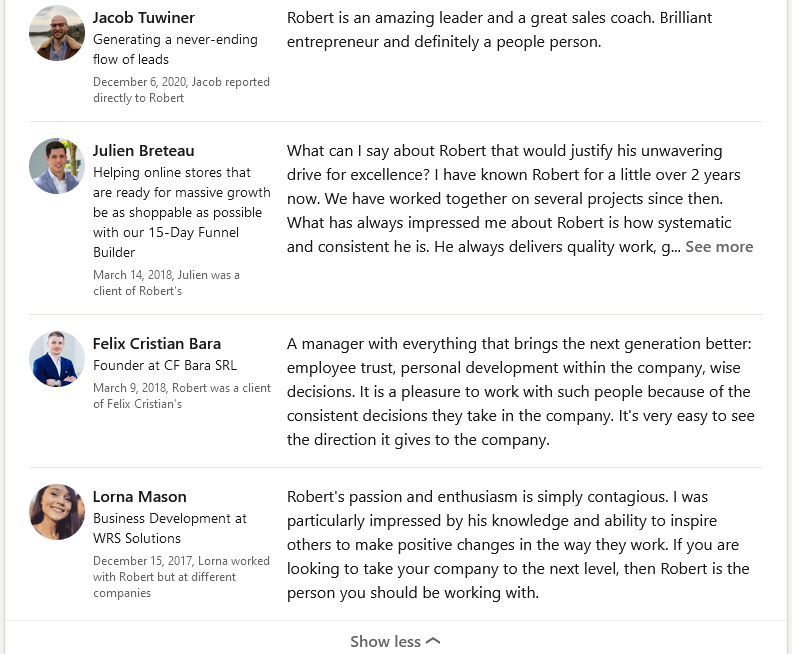 Taking the time to define all the parts of your own profile should be the baseline for all of your LinkedIn lead generation strategies.
3. Improve Your Profile's Visibility
When it comes down to it, LinkedIn is also a social media platform. So, it rewards activity and engagement.
Optimizing your profile sections with SEO in mind is a must, but it's not enough.
Arguably, the "best" way of ranking to be among the top profiles is just doing regular social media things. Sharing or publishing content, commenting on posts, reacting to or liking what others share and post, etc.
The good news is that LinkedIn isn't as extreme with its rules as Facebook or Twitter, for example. Just because you don't spend 4 hours a day on LinkedIn or you're only publishing very short posts now and then, it won't derank you.
Sometimes, just liking a post about someone being promoted can make the algorithm find you "active".
However, that won't guarantee engagement for what you're publishing. If your goal is growing an audience, you must also pay attention to peak active hours; usually the standard 9 to 5 working schedule, Monday to Friday. We advise focusing on the 11 to 1 interval, during lunch breaks.
Early mornings when people can be working less intensely is also a safe bet.
One quick way to get reactions is to tag colleagues or even companies. Their reactions and likes will help a post grow. Similarly, use hashtags (3 – 5) to promote your posts for those specific categories.
4. Know When to Hit The Breaks
In the words of our co-owner Alex, there's only one thing that matters for a business: selling.
Of course, you also need to have a quality product, market your product on the appropriate channels, build an audience, etc.
But, if you don't end up selling your product or service, you're not achieving your end goal. You're not gaining any profit.
Sometimes though, the impulse to gain more leads and extend your sales funnel can become problematic. We live in a hyperconnected world nowadays, where it's exceedingly easy to spam people with marketing and sales.
LinkedIn even has a feature of letting you know when you have too many connection requests, and highlighting the ones it deems more important.
Do you know what this means in practice? Tons of annoyed B and C-level executives that are less likely to open your messages.
However, this doesn't mean you should restrict your outreach. On the contrary, keep messaging potential leads until they either respond or block you.
But, do it strategically. You don't want to send spam. What you'll do instead is create personalized messages that relate to the person and company you're reaching out to. Research their websites, understand their niche, detect potential needs. Then you message them.
If they're still uninterested, that's fine. You did your part by the book, and not all people will want what you're selling. Just make sure you're targeting the right people, with the right message.
The bottom line and golden rule is this: when you're doing cold outreach on LinkedIn, it's not about what YOU can gain. It's about what you can offer THEM.
5. Use LinkedIn as Top-of-Funnel
Just because your LinkedIn lead generation strategy begins on the platform, it doesn't have to end there too. For example, you can use it to qualify people into the first steps of your pipeline, and then direct them somewhere else.
If you want them to access a landing page on your website, create a post with a few words about what they'll find there. The landing page can have a lead magnet, which offers them something for free (an ebook, guide, course, statistics, etc), in exchange for their email address.
And there you go, you have a new lead!
You don't have to send them to your website either. Case and point: our co-founder Alex has a YouTube channel where he goes into great detail about lead generation and different types of outreach, and multiple other topics. So, he also uses his LinkedIn to grow his audience.
Those videos also serve as a point in the marketing and sales funnel, that then direct potential leads to another step of the "conversion journey".
One thing to remember is that since LinkedIn is a business social media, you should share content and landing pages that have an educational focus (and sell through those). Save purely transactional content for Facebook, Twitter, Pinterest, etc. Ultimately, you're connecting with business people on LinkedIn. They're likely to know the same marketing & sales "tricks" that you do too.
Bring something new to the table, something that can offer them real value. Take on the role of a teacher so that prospects can see for themselves that you know what you're talking about.
6. Join Group Discussions
Another efficient way to build your following is to show people that you're an authority on the subject. Your profile and tagline are visible on posts. If you're making a great point, potential leads could begin seeking you out themselves for tips and solutions.
Besides, by engaging in these discussions, you're not only creating leads passively. You're also showing LinkedIn's algorithm that you're an active user, which benefits your profile's ranking.
Joining LinkedIn Groups is as easy as searching for them and sending a request to the moderators. Start publishing and commenting your thoughts today!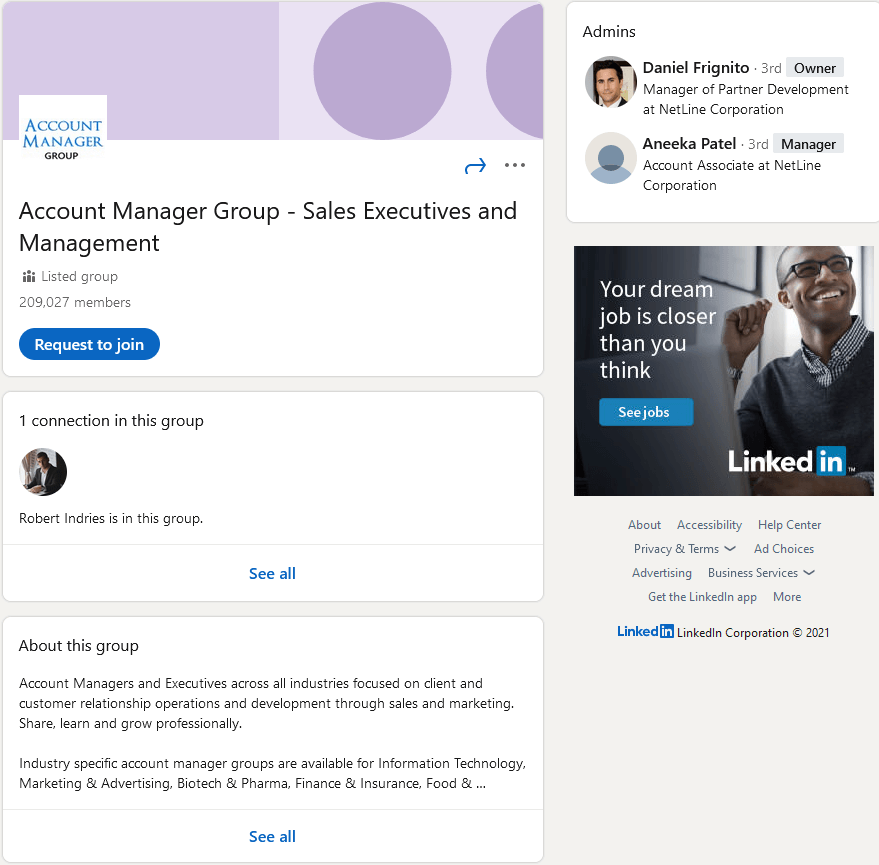 7. Create a Lead Generation PPC Campaign
The creators of LinkedIn are very aware that the platform is a great tool for lead generation, so they implemented Lead Gen Ads especially for this.
Of course, ads should be run as a company, not an individual. We recommend going with a video ad, as videos are very popular on LinkedIn (for both organic and paid marketing). If you can put together a video with how you've helped your existing customers, or how your method can bring X and Y benefits, that's great!
Focus on sharing lead magnets through PPC too, as it's a preferred practice for LinkedIn Ads. As the old saying goes, a picture is worth a thousand words, especially when delivered in an elevator-pitch style (30 seconds or less). Get your message across fast, show your efficiency, book meetings with leads.
8. Take Advantage of Content Marketing
LinkedIn lead generation strategies can easily make you think of outbound marketing channels (outreach basically). However, don't forget to refine your inbound marketing too.
If you do it correctly from the start, it has the potential of passively bringing leads to your website again and again.
One of the best inbound marketing tools is content. Of course, it must be quality content. Since you'll want a content strategy for your website's SEO anyway, the only thing you have to do is share what you're already doing with people on LinkedIn.
Like we've said previously, LinkedIn values education and information, as do its users. Publish articles about your niche, about strategies, about news, about innovations, about debates; but also as members of a business.
What do we mean by that? A lead gen company might publish an article about Facebook Lead Gen trends. But, the people of that company (who you'd feature through a post or maybe interview them) can share personal stories, their own successes and failures in the business etc.
Personal touch is always advised in B2B relations, and it's a driving factor for users clicking that link to your website or on a lead magnet.
Additionally, it's also worth keeping in mind that SEO can be a very finicky thing. Best practices dictate that all long-form content should follow specific rules to rank well, but there are exceptions too.
That's why you should make it a priority to have both professional, SEO optimized content, as well as content that simply reflects thoughts, beliefs, experiences and gives personal advice.
9. Optimize Your Company's Page
With the huge amount of companies on the market today, the last thing you want to do is being seen as "just another one".
Your LinkedIn company page must be a part of your sales pipeline. If it's unconvincing or doesn't look professional, who's going to click on your website link?
Start with your cover image. Think about your USP. What do you do better than your competition? Why should you be picked by customers? What are the benefits you bring to the table? Think of a few words, do a catchy design, have that as your cover image.
Or, you could change it every now and then, to promote nothing else than lead magnets! The cover image is the main element of your company's page. Making a prospect think "I need what they're offering" by just looking at it is a big win!
Next, revise your "About". LinkedIn only shows roughly the first paragraph of your about section on your company's "Home", so make it good! Your HQ, employee size, how much you've grown, etc aren't important here.
Add information about what you do, why you're doing it, who you're helping, what you're looking to achieve, how many people or clients you've already helped. Then, you can proceed with your divisions, services and other corporate aspects. First, build a connection!
10. Leave it to The Pros
LinkedIn Sales Hack – How to Send Unlimited Inmails
Lead Generation
7:27: min
Learning proper LinkedIn lead generation strategies can be a daunting task. You should have a go at it and understand the basics at least, but why not to leave it to those who are already experienced?
For example, at X27 Marketing, we've already generated over $100,000,000 in B2B sales for our clients. Do you want to expand your LinkedIn reach? Just contact us and we'll get back to you ASAP. We've sent so many cold emails and messages over the years that there's no situation we can't plan for.
We'll get you the leads and the meetings that your business needs. Everything we do is based on a custom approach, tailored to your specifications and your most important KPIs.
---
About The Author
Alex Berman is the founder and chief content creator of X27 Marketing. He is passionate about promoting efficient B2B lead generation channels and executing on data-driven strategies for his clients.
---